Peri-dent plans Galashiels to Malaysia production move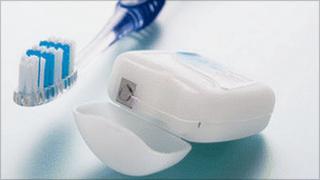 One of Europe's largest manufacturers of dental flosses has announced plans to switch production from the Scottish Borders to Malaysia.
Peri-dent employs 132 people at its factory in Tweedbank, near Galashiels.
Talks are taking place about the plans but workers fear the decision to move production has already been taken.
A company spokesman said the site had been loss-making for some time and that the "future outlook" suggested that situation would not change.
Peri-dent is one of the biggest employers in the Galashiels area.
Under the proposals, the factory on Tweedbank Industrial Estate would be converted to a warehouse with a new product development facility and commercial office.
However, it is anticipated that the bulk of the workforce would be made redundant.
'No alternative'
A Peri-dent spokesman said: "The Galashiels production site has for some time been loss-making.
"However, in recent months the situation has declined further and the future outlook suggests that the situation will not change.
"The company has concluded that, with regret, there is no alternative but to propose that production is transferred to the Far East."
The company is currently consulting with the Unite union and staff representatives on this proposal.
"It would be with regret that Peri-dent closes its production in Galashiels," added the spokesman.
"However, Peri-dent believes that this action is necessary in order to ensure that Peri-dent remains competitive in the global market place and secure the long term future for the business."
The company - which was established in 1986 - produces oral care products for customers in more than 30 countries.
Their range includes dental floss and tapes, premium floss products, dental sticks, interdental brushes, breath-freshener sprays and tongue cleaners.