Dumfries loft cannabis grower avoids jail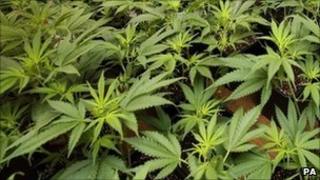 A man found growing cannabis plants with a potential street value of £44,000 in the loft of his Dumfries home has avoided a jail term.
Brian Jones, 41, of Catherinefield Crescent, admitted committing the offence in July last year.
His solicitor told Dumfries Sheriff Court the likely value of the plants would have been closer to £6,000.
Sheriff Fiona Tait gave him 240 hours community service as he had no previous convictions for similar offences.
The court heard how police had gone to his house following a tip-off.
They had found 88 plants in pots and another 72 in propagators.
Jones arrived at home while the search was taking place and confessed that the drugs were his but claimed they were for family use.
His solicitor, Roger Colledge, said the condition of the plants was such that their real value was much less than that estimated.
The sheriff told Jones her starting point for sentence would have been a custodial one.
However, she said that since he had no similar convictions she would step back from imprisonment.