Midlothian and Borders A7 bogus workers warning issued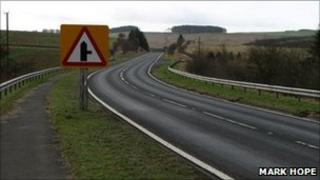 Police have appealed for public help after a spate of bogus worker incidents along the route of the A7 in Midlothian and the Scottish Borders.
Homes were targeted in Galashiels, Stow and Mayfield on Tuesday and Wednesday.
A car spotted committing a number of road traffic offences in Newtongrange has been linked with the incidents.
Lothian and Borders Police said a group of three men had travelled along the A7, stopping to "con elderly residents and rob them of their possessions".
The first incident happened at about 1540 BST on Tuesday at a property in Forest Gardens, Galashiels.
An 85-year-old man went to the door to speak to one man and spotted two others heading for his back garden.
The first suspect tried to engage the man in conversation while the other two attempted to gain access to the house through the kitchen window.
When the man noticed what was going on he warned the men off and they fled the scene.
About 10 minutes later, an elderly couple in Mill Court, Stow had a man call at their door claiming to be working for the water board and seeking access to their kitchen.
The couple, both in their 70s, followed him to the kitchen and later spotted a man leaving their bedroom.
They later noticed money had been taken.
Refused entry
Men matching the description of those involved were then seen driving in a blue hatchback car through Newtongrange at about 1615 BST.
The vehicle committed a number of road traffic offences before heading south on the A7.
The third incident was at about 1600 BST on Wednesday at Stone Place in Mayfield.
A woman refused entry to a man claiming he needed to check her water.
Police believe the incidents are linked and are now urging anyone who remembers seeing the men to come forward.
The first suspect is described as sallow-skinned, about 30 years old, 5ft 8in tall with short dark hair, dark stubble and was known to be wearing a navy T-shirt and jeans on the Tuesday.
The second suspect was white, aged about 30, 5ft 8in tall and was wearing a blue baseball cap.
The last member of the group was also white and about 30 years of age.