Dumfries road works to run for months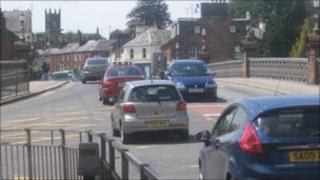 Motorists are facing months of traffic disruption in the centre of Dumfries as major road works get under way.
The programme of works is focused on the town's Buccleuch Street Bridge.
Dumfries and Galloway Council has warned that while every effort will be made to limit disruption, road closures and delays to the travelling public will be unavoidable.
The first phase starts this week with works scheduled to run for an estimated 15 weeks.
It will affect approach roads to the Buccleuch Street Bridge in the centre of the town.
The bridge itself is also earmarked to be resurfaced and repaired.
However, that will not be carried out until the school holidays begin in an effort to limit the impact.
As well as resurfacing, a new water main is being installed as part of the Marchfield and Summerfield property development in the town.
That work, affecting roads between the housing site and the town centre, will take place in phases.