Tour of Britain: Peebles to Dumfries stage launched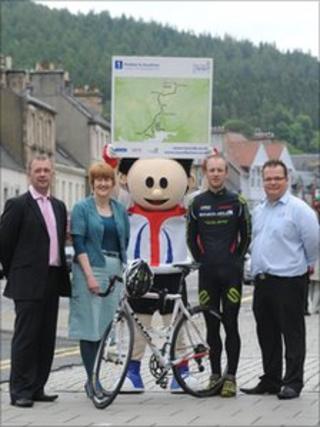 The route for the Scottish stage of this year's Tour of Britain has been officially announced in the Borders.
Some of the world's top cyclists will race more than 100 miles (161km) across southern Scotland from Peebles to Dumfries on 11 September.
It is the opening stage of this year's event, which expects to see about 100 competitors from around the world.
The week before the Tour of Britain, amateur cyclists will get a chance to test the route in a charity ride.
More than 1,000 people are expected to take part in the Prostate Cancer Charity Tour Ride Scotland on 4 September.
The two events were jointly launched in Peebles as a part of the TweedLove cycling festival.
That event continues on Tuesday night with a town centre road race in Peebles.
EventScotland's chief operating officer Paul Bush said the Tour of Britain could be one of the "marquee events on Scotland's cycling calendar this year".
'Rich cycling culture'
He added: "In the year of Active Scotland, the Tour Ride gives everyone the opportunity to experience the challenges that the professionals will face on some of Scotland's most scenic roads.
"The media coverage generated from both events will further enhance Scotland as the perfect stage for events and hopefully attract visitors from far and wide to come and experience cycling in Scotland for themselves."
Hugh Roberts, chief executive of Tour of Britain organisers SweetSpot Group, said Peebles was a fitting starting point for the event as a "town with a rich cycling culture".
"We are also looking forward to bringing a stage finish of the tour to Dumfries for the first time, and of course the Tour Ride to Scotland for the first time," he said.
The stage one route begins in the centre of Peebles before heading along the Tweed Valley to Innerleithen.
From there it begins to head uphill, taking the race over a series of climbs to Tweedsmuir and then on to Moffat.
After reaching Dumfries for the first time, the stage will take in a loop of the Dumfries and Galloway countryside, before turning for home and the finish line in the centre of Dumfries.