Borders renal dialysis unit ready to open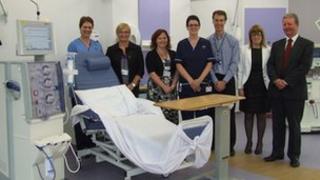 A major upgrade of the renal dialysis unit at the Borders General Hospital will open its doors this weekend.
The expansion has been backed by more than £250,000 generated in the past two years by a local fundraising campaign.
It will allow the unit to raise patient numbers by 50% meaning fewer people have to be treated outside the region.
John Raine, who chairs NHS Borders, said it let them deliver "high quality health care at the right time and in the most appropriate way".
Over the past year the unit has been in a temporary location while construction works were carried out.
The facility has now doubled in size, from six to 12 dialysis machines and can cater for 54 rather than 36 patients.
Televisions, additional equipment and wi-fi provision have been added to "make the lengthy time that patients spend in the unit more comfortable".
Mr Raine said: "It is an important step forward in the providing local and quality health care that meets the needs of the people of the Borders.
"The unit will make a huge difference in the lives of Borders patients who require haemodialysis treatment, and also to their families."
James Marjoribanks, who chairs The Difference fundraising appeal, thanked everyone who donated to the campaign and said patients would "get the benefit for years to come".
The official opening of the unit will take place in August.