Scottish Borders swimming pool closure plans shelved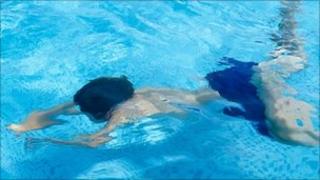 Plans which could have closed a number of swimming pools throughout the Scottish Borders have been shelved.
The move was being considered as the council looked at reorganising its sports provision across the region.
It provoked widespread opposition at a series of consultation meetings held into the proposals.
Now Scottish Borders Council has issued revised plans which will allow all the sites which had been under threat of potential closure to remain open.
Full council approval of the strategy will be sought at a meeting on 25 August.
The proposals also include a goal of improving the use of school facilities and access to and use of existing facilities.
The council will also seek to develop all-weather pitches and create new community sport and leisure plans around hubs in the nine "major" Borders towns - Hawick, Galashiels, Peebles, Selkirk, Kelso, Jedburgh, Eyemouth, Duns and Earlston.
Councillor Graham Garvie said the process of formulating the strategy had been "in-depth and exhaustive".
"We have had to look at the need to balance the desire for aspiration and ambition with the harsh reality of financial cutbacks which will affect us all for the foreseeable future," he said.
'Strategic thinking'
He added that it was not something the council expected to "get 100% right immediately".
"It will take time working with Borders people, partners, clubs and organisations to improve the strategy year on year going forward," he said.
"Sports facilities in the Borders need investment.
"Our current and future generations deserve better and the way to achieve that is through careful strategic thinking and active cooperative working together across the Borders."
The news has been welcomed by people who campaigned to keep the pools open.
George Burt, of Jedburgh Leisure Facilities Trust, said: "It is very good news that none of the pools are likely to close.
"That will enable us to continue planning for the development of Laidlaw Memorial Swimming Pool and Fitness Centre well into the future".