David Mundell expenses 'mistake' court hearing sought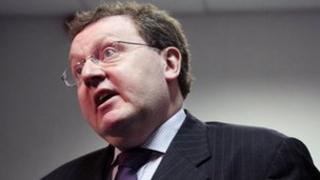 A judge has called for a hearing of evidence as an MP seeks to have an election expenses "mistake" excused.
Lawyers for Scotland Office minister David Mundell had argued the action could be decided on documentation, statements and submissions.
However, judge John Beckett QC said he had to take into account the responsibility entrusted to the court.
At the Court of Session in Edinburgh he said that he would fix a one-day hearing for a date yet to be set.
"I don't feel able to grant the relief sought without hearing parole evidence," he said.
Mr Mundell and his agent at last year's General Election, Joe Dawson, have raised the legal action following an error with an invoice which, if it had been allocated to the correct campaign spending, would have resulted in exceeding the limit by £466.
Their counsel, Leonard Wallace, told the court that they were of the view that it was "an innocent mistake".
"It was inadvertence," he said.
"Really what they are seeking is an order to that effect."
'Good faith'
They are seeking relief under the Representation of the People Act over errors in declarations and returns.
The Crown previously decided no criminal proceedings would be brought.
The court heard that it was Mr Dawson's first experience as an election agent and the MP, who subsequently won the Dumfriesshire, Clydesdale and Tweeddale seat, had arranged for him to be helped by Conservative central office in Edinburgh.
Mr Wallace said that Mr Mundell knew his agent was inexperienced but had made arrangements for him to be supervised.
It is maintained that the error did not arise through any "want of good faith" on the part of the MP or agent.