Annan hosts British Pipe Band Championships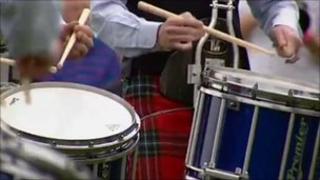 Hundreds of pipers are heading to Annan in Dumfries and Galloway as it hosts the British Pipe Band Championships.
It is estimated the event raised more than £150,000 for the local economy when it was staged at the same venue last year.
More than 130 bands are registered to compete in the event which takes place in the town on Saturday.
Cllr Ian Carruthers said the championships promised to be "even bigger and better than last year".
In 2010, it was estimated more than 8,000 people attended the event with bands participating from around the world.
Police have advised motorists to avoid Annan town centre during the proceedings.