Dumfries 'planking' craze alarms police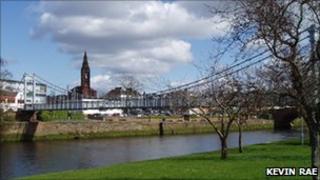 Police in Dumfries have said they fear someone could be killed or seriously injured as part of a "planking" craze which has emerged in the town.
It involves being photographed lying face down in unusual places.
A series of images have appeared online showing individuals balanced on top of a range of structures and buildings.
Ch Insp Alan Glendinning said there were clear dangers attached to the practice and urged people to think twice before getting involved.
The pictures on the internet show people on top of council buildings, the town's suspension bridge and a shopping centre.
"It is a craze and most people will see it as a light-hearted craze but there has got to be a serious side to that as well," Mr Glendinning said.
"I think some of the areas that we have seen are clearly dangerous and people have to think of the consequences of those actions - the tragic consequences that can come of such a thing."
He said there was concern that people were taking ever-increasing risks to outdo one another.
"The ability to post images across the world can influence others into being more daring than they might be as a norm - that clearly is a concern," he said.
"As people get more and more daring and want to put more daring pictures onto the web that is a serious concern.
"That is when people take huge risks, and with risks come consequences and that is what we want to avoid."