Dumfries MP Russell Brown voices high street job fears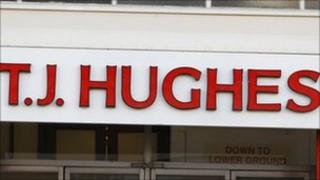 MP Russell Brown is seeking "urgent clarification" about the future of two stores in Dumfries town centre.
TJ Hughes has said it is planning to appoint an administrator after reporting a downturn in trade.
Meanwhile, chocolate maker Thorntons is set to close up to 180 shops after a strategic review of its business.
Mr Brown said he was "deeply concerned" particularly about the fate of dozens of people employed at both stores in the town.
The Dumfries branch of TJ Hughes opened in a former Littlewoods shop in 2006, employing more than 40 staff.
It occupies a prominent site on the town's High Street.
"The size of that building and the scale of the premises would be a deep, deep loss if we saw that disappear from the main street and become another vacant premises," said the Dumfries and Galloway MP Mr Brown.
Thorntons operates a smaller store in the town near the Loreburn Centre shopping complex.
The chairman of the Dumfries Retailers Association, Rab Smith, said the potential loss of two stores would be a severe blow for the town centre.
"I am always saying to people Dumfries is not a bad town, it is not in a bad way but the perception is that it is in a bad way," he said.
"That is the worrying thing - if we lose TJ Hughes from the High Street it's a big gap.
"Who is going to fill it? Nobody that I can think of."
He said Dumfries found itself in a particularly difficult trading position.
"For towns our size it's a big concern because we are right on that border line between too big to be a small town, too small to be a big town," said Mr Smith.
He said that meant it would often "bear the brunt" of closures announced by major retailers.