Borders hydro scheme planned for Ettrick Water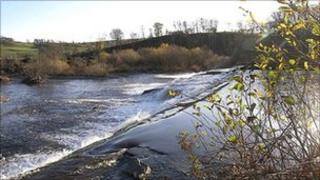 Plans for what is thought to be the first hydro-electric plant in the Borders have been unveiled for a River Tweed tributary.
The landowner behind the £1m Ettrick Water scheme aims to have it running by next year subject to planning approval.
Sir Michael Strang-Steel said the project at Murray's Cauld - a dam built 165 years ago - could meet the energy needs of more than 200 homes.
Work has already started repairing the site ahead of the development.
The scheme near Selkirk would see the introduction of an Archimedes Screw to generate 0.8MW for the National Grid.
Attempts to secure Scottish government funding for the project failed and it is estimated the payback period for the estate will be 18 years.
However, Sir Michael said: "We will gain a feed-in tariff which is available to renewable energy projects involving water, wind, solar power or biomass.
"It is a subsidy on the electricity we sell to the grid.
"It is a very, very expensive project but we are looking to the long term."
The scheme will also include a state-of-the-art fish pass, which it is hoped will improve the experience of a salmon viewing centre in the area.
The estate aims to lodge a planning application with Scottish Borders Council for the hydro electric plant later this year.