Dumfries and Galloway shark taggers fear tope decline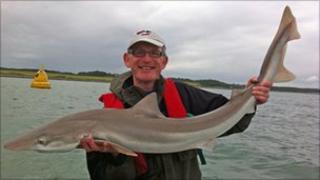 A shark tagging event in waters off southern Scotland has raised concerns about a decline in tope numbers.
The Scottish Sea Angling Conservation Network (SSACN) said initial data seemed to show a fall in levels.
The Sharkatag event also appeared to show a decline in the number of rays being found off the Scottish coast.
SSACN project director Ian Burnett said the results from the three-day study were of concern and that more work was needed to establish the causes.
The third annual Sharkatag took place between 24 and 26 June in the waters off Dumfries and Galloway.
Despite unfavourable weather conditions a large number of volunteer anglers turned up to assist.
Mr Burnett said the results raised questions about stocks of tope - an inshore shark commonly found in British coastal waters - in the area.
"Evidence from this and previous years' Sharkatags seems to confirm the anecdotal evidence that tope numbers are continuing to fall on an annual basis," he said.
"We cannot be sure whether this is down to overfishing on their wintering grounds or a change in their northern migration route due to some factor or another.
"Equally concerning is the data shows thornback ray stocks seem to be improving slightly, but not one cuckoo, blonde or spotted ray has been caught."
He said that 20 years ago such species were abundant in the area.
He added that more research was needed to find out why the numbers were dwindling but funding would be required to carry out such studies.