Medieval Scottish pottery industry levels revealed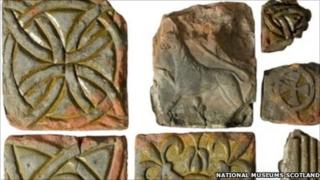 A study at south of Scotland abbey sites has found evidence the Scots 12th Century pottery industry was much larger than previously documented.
Researchers funded by Historic Scotland also visited castles and palaces such as Cadzow, Linlithgow and Dirleton.
Their studies show the industry was much less dependent on imports than had been thought.
It is now hoped the same technology could be used to help identify Scottish pottery sold to foreign markets.
By applying new identification techniques, researchers were able to pinpoint for the first time different sources of production - even to the extent of identifying sites half a mile (0.8km) apart.
The team looked at ceramic samples from kiln sites and a number of major abbeys such as Jedburgh, Kelso, Melrose and Glenluce, along with a number of castles.
The result of isolating clay sources suggests that production was "both much more diffuse and prevalent than previously thought".
Culture Secretary Fiona Hyslop described it as an "exciting breakthrough in using new methods to develop our understanding of the past".
"This study shows that by applying innovative solutions to historical research we can continue to strip away the layers and learn more about our ancestors and how they lived," she said.
The team, which incorporated researchers George Haggarty, Derek Hall and Simon Chenery, made the discovery after applying ICPS (Inductively Coupled Mass Spectroscopy) to the sourcing of the Scottish medieval and industrial redware tiles and pottery.
This technique, which effectively identifies chemical "signatures", helps to identify the precise origin of ceramics.
'Exciting development'
Rod McCullagh, of Historic Scotland, said it had been pleased to support the project.
"The application of the technology in this way allows you to source - in a far more detailed way than has ever been possible before - the exact production location of ceramic items," he said.
"This will not only enhance our understanding of Scotland at this time and how it developed but also has huge potential for researchers working with ceramics across continents and centuries.
"It may also be possible to use this research method to help to identify Scottish pottery in foreign markets, perhaps allowing us to identify more and better evidence for Scotland's Medieval proto-entrepreneurs, which is a very exciting development."