MSP Alex Fergusson names charity pension beneficiaries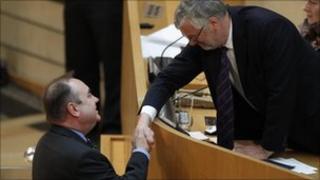 The former presiding officer of the Scottish Parliament, Alex Fergusson, has revealed the three charities which will receive his pension.
The Tory MSP, who has become the first former PO to return to Holyrood as an elected member, is entitled to about £20,000 a year as a former post-holder.
He said he did not want the funds while earning an MSP's salary.
The money will go to Wigtownshire Women's Aid, Southwest Scotland RnR and Dumfries and Galloway Befrienders.
All of the groups are in his Galloway and West Dumfries constituency.
"Choosing only three charities was a very difficult task, but I have long supported the work of Women's Aid in Wigtownshire and the Dumfries and Galloway Befrienders, each of which play an enormous role in building confidence in some very vulnerable people," he said.
"Southwest Scotland RnR is a relatively new but wonderful charity which provides much needed holidays in Dumfries and Galloway for soldiers injured while on active service in Afghanistan and elsewhere.
"Again, this is about confidence building and showing these brave young men that we civilians do care and appreciate what they do for us."