Curling champ Gail Munro wins damages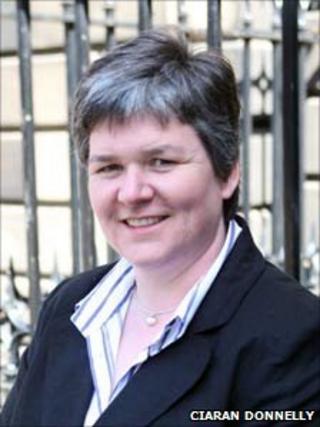 A curling champion who was stung by a claim she had refused to play for Scotland has been awarded more than £20,000 in damages by a judge.
Gail Munro, 43, of Cairnryan Road, Stranraer, took ex-national coach Derek Brown to court over comments during the world championships three years ago.
She claimed her reputation had been damaged by the claims.
Lord Doherty said the damages were awarded for hurt feelings - not as a punishment or an example to others.
The Court of Session in Edinburgh heard of a fall-out between skip Ms Munro and the coach after the Scottish team put up a poor performance - losing eight games in a row.
She was dropped from the team's next game against Italy.
However, at a press conference after the match Mr Brown, 44, told the media that Ms Munro had been given an opportunity to go on the ice against Italy but had refused.
Ice rink manager Ms Munro sought damages of £50,000, telling Lord Doherty that her reputation had been damaged and other curlers were giving her the cold shoulder as a result.
She also had to face disciplinary proceedings after she returned home.
Mr Brown, now the director of high performance for the US curling association, contested the case insisting that what he had said at the world championships in Canada was true.
The case hinged on a midnight hotel room conversation between Ms Munro and Olympic gold medallist Rhona Martin, who was team coach.
The skip had been angry and upset because Mr Brown, as national coach, had "pulled rank" and dropped her from the team.
When a suggestion was made that Mr Brown might ask Ms Munro to play against a Czech team, she said something to Ms Martin along the lines of: "There is no way he will ask me."
'Deeply hurt'
She denied saying that if Mr Brown did ask her to play against the Czechs she would "tell him where to go."
Ms Munro told the judge that at no time was she given the opportunity to return to the ice against either Italy or the Czechs and had never said she was not prepared to play, if asked.
Lord Doherty, in his written ruling, noted that there were no witnesses to the conversation between Ms Munro and Ms Martin but said he was not persuaded that he should reject their evidence.
There had been no face-to-face discussion between Ms Munro and Mr Brown.
"Ms Munro impressed me as a witness who was doing her best to tell the truth," said the judge.
"It was clear to me that she had been stung by the allegations and was still deeply hurt by them."
'Less culpable'
Ms Martin's account had been "substantially consistent" he said.
Deciding on the level of damages, Lord Doherty said it was "common ground" that Ms Munro's reputation in the curling world was lowered.
"It is clear to me that there was also damage to her reputation in the wider community," he added.
The judge said he accepted that - at the time - Mr Brown may have honestly believed what he was saying was true.
"That makes his conduct less culpable than if he had knowingly made false statements," he said.
Better management and communication would have avoided the problem at the press conference, he said, and Mr Brown had never issued a retraction.