Eastriggs snare man's fine and animal ban welcomed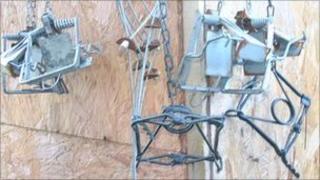 The Scottish SPCA has welcomed a fine and five-year ban on keeping animals imposed on a man who neglected his dog and was caught with illegal snares.
Carl Conroy, 21, of Brisbane Road, Eastriggs, admitted having the snares and a bird caller to attract birds in order to kill them in June last year.
He was also found guilty of failing to get veterinary treatment for his dog.
Scottish SPCA Ch Supt Mike Flynn said such snares caused animals "a great deal of pain and suffering".
At Dumfries Sheriff Court, Conroy was fined £1,500 as well as receiving a ban from keeping animals.
He was warned he faced 45 days imprisonment if he failed to make payment and ordered to pay £750 in compensation to the Scottish SPCA.
Mr Flynn said: "During our investigation we also discovered an electronic bird caller in Conroy's possession which he admitted was used to attract birds such as crows in order to shoot them.
"Conroy also used his dog to hunt and it had sustained a serious injury to its nose and lower jaw, with its nose effectively having been ripped off.
"Despite the obvious pain his dog was suffering Conroy did not seek veterinary treatment."
Mr Flynn said the lurcher had made a full recovery and would be rehomed "somewhere he will receive the care and attention he deserves".
"The fine and compensation orders are substantial and we are pleased a ban on keeping animals has been imposed," he added.
"We would like to thank the procurator fiscal for her determination in pursuing this case."