Stranraer drink-driver was nearly six times legal limit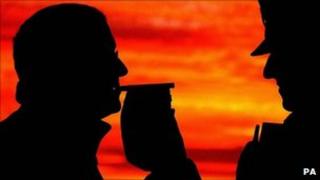 A drink-driver caught at nearly six times the legal limit was the highest recorded by police in Dumfries and Galloway in the past five years.
Insp Neil Hewitson said the level of 198 micrograms in 100ml of breath would have made the Stranraer motorist "very incapable of driving".
The legal limit currently stands at just 35 micrograms.
Insp Hewitson said the reading, taken in September 2007, was the highest he could remember in the region.
The figure emerged in a freedom of information request by the BBC.
The statistics also revealed the oldest and youngest people to be caught drink-driving in the region since 2006.
A 14-year-old was detected for the offence in Glenluce in May last year.
The oldest person found to be drink-driving in the same period was an 81-year-old in Dumfries in November 2009.
Insp Hewitson said the Stranraer case would have stretched the limits of the breath test machine.
"That is a particularly high reading, that is just about six times the limit for any person who is driving on the road," he said.
"So there would be a really high level of intoxication there.
"I have never come across one personally any higher than that.
"That person would be well under the influence of alcohol and I would have thought would have been very incapable of driving to any suitable degree."
The overall trend in drink-driving in the region was downwards and the road traffic officer said more people were taking a dim view of such offences.
"As a result of that, we do get more phone calls from the public with regard to people who they suspect to be drink-driving," he said.
"In particular we are probably getting more calls about people who are suspected of drinking and driving the next morning after having been out the night before and having a few drinks."
He added that some age groups were of particular concern.
Men between 26 and 45 were the worst offenders with nearly 100 caught in both 2009 and 2010.
"We know the dangers of persons driving while under the influence of alcohol massively increase the chances of you having a crash," said Insp Hewitson.
"The message would be that if you are going to drink and drive we are going catch you.
"And you are likely to feel the full weight of the courts thereafter."