Four teenagers fined over 'planking' craze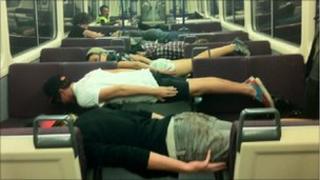 Four teenagers from Dumfries and Galloway have been fined after they were found "planking" on private property or in dangerous situations.
The craze involves being photographed lying face down in unusual places and the images being posted online.
Police described the planking trend as "pointless".
Two youths from the Annan area, aged 17 and 18, and two from the Langholm area, aged 18 and 19, received £40 anti-social behaviour fines at the weekend
Sgt Steven Wilson said: "This stupid behaviour may be a bit of a laugh to a few kids; however we have found some youngsters are trying to outdo each other by going to extreme methods or locations to post their picture.
"We have seen people on rooftops and lying on busy roads where the dangers are fairly obvious."
He added: "We are clamping down on this kind of behaviour because, in short, if you damage property or are on private property it is likely to be an offence.
"If you fall or are injured whilst carrying out these actions, the emergency services have to come and spend time helping you when this could easily be avoided."