Wickerman Festival 'can last another decade'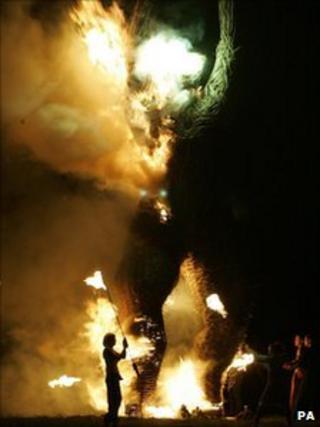 Wickerman Festival organisers have said it can go on for another decade after its 10th edition came to a close.
Indie bands James and Feeder were headline acts for the event at East Kirkcarswell Farm near Dundrennan on Friday and Saturday.
Proceedings came to a close with the burning of a 40ft wicker figure - this year a man with a stag's head.
Co-founder and site owner Jamie Gilroy said he believed the festival still had plenty of life left in it.
"I wouldn't have thought 10 years ago that we would be here - but of course it can go another 10 years," he said.
"I think we have got a little bit of a dilemma because we have to keep it fresh and new and we have to try and keep the atmosphere and be true to our regular guests who keep coming.
"But we also have to encourage new guests to come."
However, he said he would be reluctant to see the south of Scotland event expand much further.
"I am very conscious of the fact that if we get very much bigger we will be in danger of having to put up walls and things to keep people out," he said.
"I certainly don't want to go down that line.
"So I think we have got some very serious thinking to do about how we square the profitability with keeping the atmosphere."