Norway attacks: Dumfries honours victims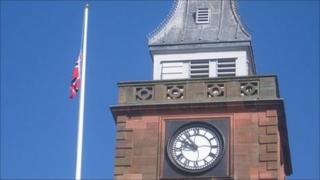 A Norwegian flag is flying at half-mast over Dumfries as a mark of respect for the victims of Friday's massacre.
The flag was raised at the town's Midsteeple by Provost Jack Groom on Monday afternoon.
He said it reflected the close historic links between Norway and Dumfries, where the Norwegian army-in-exile was headquartered during World War II.
Elsewhere in Scotland, a book of condolence is being opened at the Norwegian Consulate in Edinburgh.
External Affairs Secretary Fiona Hyslop is due to add her name to the book.
Dumfries and Galloway MP Russell Brown has already sent a letter of condolence to the Norwegian consul general in Edinburgh.
The death toll of the attacks at an island youth camp and bombing in Oslo stands at 76.
Mr Groom said a town, which had become like a "little Norway" during World War II, wanted to do something to honour those who lost their lives.
"Between 1940 and 1945 Norwegian servicemen were based in Dumfries," he said.
"The future king Haakon was here at that time and in 1962 King Olav came over to receive the freedom of the burgh of Dumfries.
"Because of what has happened I thought we would fly a Norwegian flag at half-mast for the rest of this week."
Mr Brown, who also attended the flag ceremony, said people wanted to express their "deep sympathy and condolences".
"We have got families here who are originally from Norway who will be feeling the pain of this very much indeed," he said.
"Our sympathy as local people has got to be with them as well."
Norway was one of the first countries to be overwhelmed by Germany during World War II and many of its soldiers and others fled in the hope of regrouping elsewhere.
About 300 of them landed in Hamilton in June 1940 and were subsequently directed to Dumfries.
They received military training in the town and the Norwegian army command later moved there.
By 1941, their numbers topped 1,000 and work got under way building a barracks at Carronbridge, north of Dumfries.
In the same year, the Scottish Norwegian Society was also founded in the town and a permanent base named Norway House (Norges Hus) was created.