Wickerman Festival drug find totals 'low'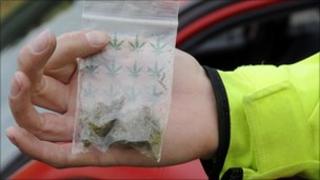 Police have welcomed the "low number" of people caught with drugs at the Wickerman Festival in south west Scotland at the weekend.
Insp Stuart Davidson said the figures were a credit to those attending the event near Kirkcudbright.
A total of 63 people were found in possession of illegal drugs and five people face drug supply charges.
Drugs with a street value of about £3,500 were seized, including cannabis, cocaine, amphetamine, and ecstasy.
The 10th festival is estimated to have been attended by about 15,000 people.
Police said their operations resulted in "only a handful of minor offences which required to be dealt with".
Vehicles and people were searched, with the assistance of police sniffer dogs, in an attempt to stop illegal drugs being taken on to the site.
Voluntary tests
As festival goers left on Sunday, those driving off the site were offered the opportunity to take a voluntary breathalyser test to check on their fitness to drive on the public roads.
In total, nearly 500 drivers took advantage of the initiative and police said they were "encouraged by the level of responsibility taken by drivers".
Insp Davidson said: "Once again the good working relationships developed over the years between all those involved in running the festival has paid dividends.
"The low numbers of arrests in high numbers of attendees is a credit to those who come along to the festival.
"While there is an increase in the number of people found in possession of illegal drugs, the positive factor is the manner in which we carried out our searches has ensured that none of theses drugs were able to be taken into the festival site to be misused."