Tweedbank teenager Bruce Scott honoured by friends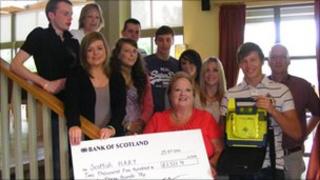 A group of teenagers has raised funds to buy a defibrillator for a Borders village after the death of a friend following heart surgery.
Bruce Scott, 19, of Tweedbank near Galashiels, died in March.
The teenager's family and friends then embarked on a series of fund-raising activities in aid of the charity Scottish HART.
It has already installed defibrillators at a number of locations across the country.
Bruce's cousin and close friend, 16-year-old Liam Scott, said: "Bruce said that when he got out of hospital he wanted to help others who had heart problems, as well as go into schools to talk about his experiences.
"I think he'd be really pleased that we've raised so much money for a cause that meant so much to him".
Another of the fund-raisers, Leonie Jameson, said they had raised a little more than £2,500 through a variety of events, including a music event, quiz and raffle, as well as the sale of wristbands.
"It was important to us to meet our target because we wanted to ensure something positive was done in Bruce's memory, and something that could save lives," she said.
Wilma Gunn from Selkirk, who founded the Scottish HART charity following the death of her son Cameron from the heart condition cardiomyopathy, said she was very impressed by the efforts of Bruce's young friends.
The defibrillator in Tweedbank will be located at the Herges on the Loch restaurant in the town.