Galashiels street signs set drivers mystery speed limit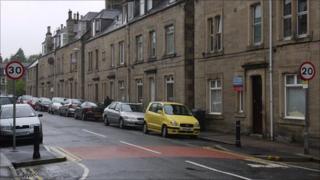 A council has blamed pranksters for two different speed limit signs on a residential street in the Borders.
Drivers entering St Andrew Street in Galashiels are confronted with one sign declaring a 30mph limit but another claiming it is a 20mph zone.
One motorist, who spotted the conflicting advice, said he thought his "eyes were playing tricks".
Scottish Borders Council said it was not a blunder but rather someone had turned a sign around.
A spokesman explained that St Andrew Street had a 20mph limit while the road next to it, St John Street, was a 30mph zone.
He added: "It appears as if one of the road signs has been turned round so it is facing the wrong way.
"We don't know who did this but arrangements are being made to fix it as soon as possible."
Motorist Paul Graham, 38, was among those who spotted the signs.
"I thought my eyes were playing tricks on me," he said.
"A passenger pointed out the two different signs and we thought it must be a new addition to the Highway Code.
"Something has gone wrong somewhere along the line."