Sandgreen drifting dinghy sparks rescue operation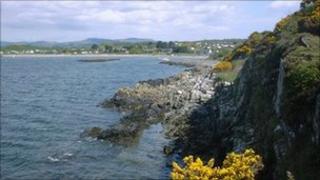 Two young girls have been rescued after their inflatable dinghy drifted a mile off course in waters off the south of Scotland shoreline.
The incident happened near Sandgreen in Dumfries and Galloway shortly after 20:00 on Wednesday.
Liverpool Coastguard was called out by the mother of one of the girls who had not seen them for at least an hour.
They were found by a canoeist who gave them a tow before a rescue boat took them back to Sandgreen.
The Fleet Bay independent rescue boat, Port William independent lifeboat and the RNLI Kirkcudbright inshore lifeboat were called out to the incident.
Highlights dangers
A rescue helicopter from RAF Valley was scrambled and the Solway Coastguard sector manager was also sent to the scene.
Paul Parkes, Liverpool Coastguard watch manager, said the incident highlighted the dangers of using small dinghies.
"We would like to remind the public that inflatable toy boats can easily be blown out to sea - if you do use them always ensure they are tethered to an adult who is standing at the water's edge with them," he said.
"Inflatable boats and toys must not be used in an offshore wind.
"If you find themselves being swept out to sea on an inflatable boat or toy, we advise you to stay with the boat or toy and shout for help, waving arms if possible.
"Do not attempt to swim for shore if out of your depth."