Scottish Borders Council's executive pay criticised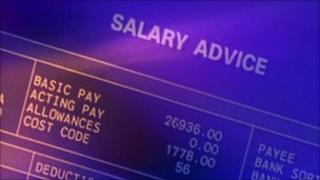 Senior executives at a Scots council have received pay rises at the same time as hundreds of lower ranking staff accepted a wage freeze, it has emerged.
Annual accounts for Scottish Borders Council reveal the salary increases for many of its top earners.
Unite union regional organiser Ian McDonald said it was an "intriguing and highly unfair way of sharing the pain".
Council leader David Parker said the difference was due to national negotiations which had taken place.
In March this year the GMB, Unite and Unison unions agreed to a three-year deal in order to help save the authority nearly £5m.
The agreement was reached for workers earning more than £21,000-a-year in return for a promise of no compulsory redundancies among union members during the same period.
However, figures for 2010/11 posted on the council's website show that high ranking officials still received large increases in wages from the previous year.
Outgoing chief executive David Hume saw his salary rise to £123,008 from £119,531 in 2009/10.
'Substantial increases'
Director of resources Tracey Logan picked up £101,039 compared with £96,470, while education chief Glenn Rodger and social work director Andrew Lowe also got rises of more than £2,000.
Mr McDonald said: "Most employees in SBC had a pay rise of 0.65% in 2010, zero in 2011 and will get zero in 2012 which, with current and projected rates of inflation, is effectively a pay cut.
"Yet 107 already highly-paid officers get substantial increases in pay.
"It is an intriguing and highly unfair way of sharing the pain."
Hawick councillor David Paterson also criticised the situation.
"A loaf of bread costs the same for an ordinary employee as it does for a chief officer," he said.
"I have already hard-pressed council tax payers asking about the massive pay outs that some employees are getting at SBC."
Mr Parker said the difference in pay awards to staff in 2010/11 was due to different national negotiations that took place.
He explained: "Teachers and chief officers received a high rate of pay increase because they were in the final year of a three-year deal.
"A similar pay increase and three-year deal had been offered to all other staff but the unions representing them rejected that offer and chose to go for one-year agreements instead, which ultimately led to them receiving a worse deal than the one they had been offered and rejected three years previously."
Depute leader Alec Nicol added: "As part of the deal signed with the trade unions in March, we ensured over 2,000 staff - mostly women - earning less than £21,000 per year were entitled to their normal incremental progression in 2011/12.
"Also over 600 employees - again mainly female staff - are to benefit from the establishment of a 'living wage' of £7.15."