Peebles party stand-off charges admitted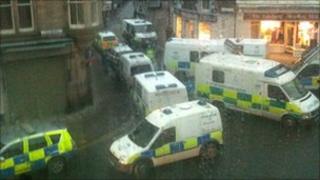 Four men have admitted taking part in a stand-off with police which shut down the centre of a Scottish Borders town for nearly two hours.
About 40 police officers rushed to the Northgate in Peebles after a party spiralled out of control in January.
Missiles were hurled at police and fire engines were in attendance amid fears of a gas explosion.
Five other men had not guilty pleas to being part of the disturbance accepted at Peebles Sheriff Court.
Tessa Bradley, prosecuting, told the court how police originally arrived in the Northgate in the early hours of 30 January to deal with an alarm going off.
However, they soon became aware of the excessive noise coming from a nearby flat and went to investigate.
Ms Bradley said: "Immediately they were met with a volley of abuse and a number of male voices were heard behind the door uttering threats and insults and banging on it causing the window above it to fall out."
Officers then backed off and called for assistance as revellers began climbing out onto the roof while others threw batteries and parts of the banister from the windows.
Partygoers who wished to leave found themselves barricaded within the property while outside riot police prepared to raid it.
The door was opened after about two hours and police stormed in.
William Drynan, 31, of Upper Craigour, Edinburgh, plus Oliver Eaton, 20, of Violet Bank, Peebles; David Stanton, 25, of North Street, Peebles and David Manson, 23, of Broughton, Peeblesshire, all pled guilty to threatening behaviour, including throwing missiles at police.
Sheriff Kevin Drummond said that due to the nature of the incident he would defer sentence until 24 August for background reports.
Five others - Ryan Henderson, 19, Kyle Thomson, 19, Daniel Lavin, 31, Peter Shearlaw 23, all of Peebles, and Phillip Allan, 19, of Edinburgh - had their pleas of not guilty accepted.