Duns Wicken Fen fatal fire factory job loss concerns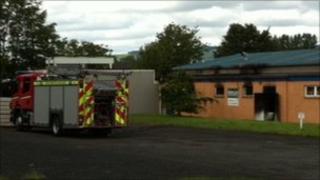 A councillor has warned that 35 proposed job losses following a fatal factory fire will have a "big impact" on a small Scottish Borders town.
Mid Berwickshire councillor Donald Moffat said it was a major blow for Duns and the surrounding area.
Brian Newton, 37, from Greenlaw, died in the fire at the Wicken Fen site.
The company said it would be at least six months before the factory could be operational, leaving them with no choice but to make staff redundant.
A major emergency operation took place in the Borders town in June when fire broke out at the food factory.
It subsequently emerged Mr Newton had died in the premises.
The circumstances of the fire are still under investigation.
The company has now confirmed it has entered a 30-day consultation on redundancy with its staff.
'Sad day'
Co-founder Paul Weeks said: "We are still waiting for a decision from the insurance company.
"There has been extensive damage from fire and smoke and, at the moment, the premises are completely unusable."
Mr Weeks said that even when the insurance company paid out it would take at least six months to get the premises back to working order.
He said that a lot of work would also have to be done to restore lost orders.
Mr Moffat said the announcement would hit the local economy hard.
"I think it is a sad day for Duns and for Berwickshire in general because not all the workers would come from Duns," he said.
"It is one of these things that is going to affect a lot of families in the area.
"Any firm that loses 30 to 40 jobs in a rural area has quite a big impact."