Princess Royal celebrates Wigtown society's 200th year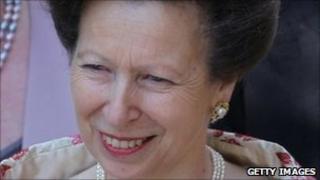 The Princess Royal has visited Dumfries and Galloway to help celebrate a major farming milestone.
Princess Anne attended the Wigtown Show at the town's Bladnoch Park to mark the 200th anniversary of the Wigtown Agricultural Society.
The organisation was founded in 1811, with its first agricultural show held two years later.
Society chairman Ian McFadzean said it was an honour to have a royal visitor at bicentenary celebrations.
"It is the first time we have ever had royalty, it's wonderful," he said.
Mr McFadzean said the event was a "major show" which had been a great success down the years.
"The quality of livestock is fantastic, second to none," he said.
"It is a wonderful area, the south west of Scotland, for growing grass and producing quality livestock.
"We are up there with the best of the one-day shows I feel."