Peebles marine's grave mementoes stolen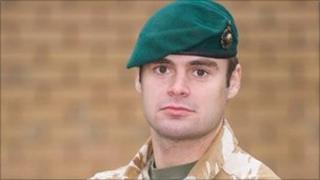 Mementoes left on the grave of a marine by his young daughter have been stolen from a Scottish Borders cemetery.
A Royal Marine's medallion has also been taken from the burial place of Alec Lucas in Peebles.
He died in November 2008 following an explosion while on patrol in Helmand province in Afghanistan.
His father, Adrian, said he hoped the items had been taken in error and appealed to whoever had them to "do the decent thing" and return them.
Family members discovered the items had gone missing last week.
The marine's father said: "I just hope that a child has taken these things without knowing what they mean."
He said the little glass hearts were "not worth anything, but we would really like to have them back".
"The medallion was left by a fellow Royal Marine assault engineer last year - they must have travelled a long way to bring it to Alec's grave," he added.
The medallion is described as red on one side and green on the other.
Marine Lucas is remembered in Peebles every year with a football tournament in his honour as he was a keen player.
A trust set up in his memory has already raised more than £50,000 for local football causes and a charity for the Royal Marines.