South of Scotland projects earn government fund support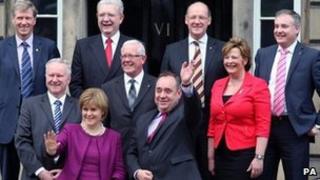 The Scottish government has unveiled investments of about £2.5m across southern Scotland during a cabinet visit to Stranraer.
It said the biggest slice of the funds would bring more than 150 jobs to Dumfries and Galloway and the Borders.
Support has also been announced to allow the development of 3G sports pitches in the region.
A third investment package will be used to help market mountain biking in southern Scotland.
The Scottish cabinet is visiting Stranraer as part of a series of meetings taking place across the country this summer.
A range of investment announcements coincided with that event.
The biggest beneficiary is the GLA Regional Industry Park in Annan, which will receive nearly £1m to provide plots for business development.
More than £580,000 has been awarded to the South of Scotland Business Competitiveness Project in Stranraer, which focuses on sectors like tourism, food and drink and renewables.
In the Borders, about £350,000 will go towards the Haining Stables office development in Selkirk and more than £230,000 to the Kelso Town Hall business hub.
First Minister Alex Salmond said the funds would help businesses to expand, create jobs and boost the local economy.
He added: "This level of public sector investment helps support the local and regional economy and, most importantly, helps sustain and promote small businesses in hard financial times."
In a separate announcement, it was confirmed Sportscotland would provide £400,000 of additional support for 3G sports pitches in Dumfries and Galloway.
Earlier this year, the Scottish government committed £600,000 from its Cashback for Communities programme to allow two such facilities to be built.
The extra cash will now allow a third pitch to be constructed, putting the services in Dumfries, Annan and Stranraer.
The final funding package sees nearly £20,000 invested in helping to market mountain biking in Dumfries and Galloway.
Dumfries and Galloway's Labour MP Russell Brown described the statements as a "disappointing display of rehashed announcements".
He said it was "too little, too late" and confirmed that the region was the "forgotten part of Scotland" for the SNP.
"While any investment is welcome, this doesn't go anywhere near making up for what we miss out on," he said.
"Local people want their fair share and are angry that the SNP continually put more money into projects further north."