Eyemouth cliff fall girl rescued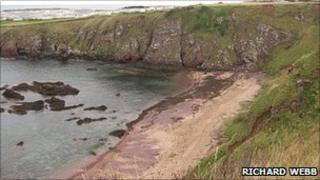 A teenage girl has been rescued after falling down a cliff on the Scottish Borders coastline.
The incident happened on Sunday evening at Killiedraught Bay near Eyemouth in Berwickshire.
It is thought the girl had been helping in the search for a local man who had gone missing in the area.
Some of the searchers who had been tasked with looking for the man were diverted to help bring the girl to safety.
Eyemouth coastguard station officer Norman Richardson said: "At about eight o'clock we were still searching with the police for a missing person and I got an emergency call from Forth coastguard to say there was a person over the cliffs.
"So, we despatched to that and set up a cliff incident, put a man over the cliff and rescued the female that had slipped down the cliff.
"She was in a very serious position, she had slid halfway down the cliff.
"By the time my cliff man went over, he just managed to get hold of her because if she had slipped again she would have been dead because she would have been on really rough rocks at the bottom of the cliff."
The search for the missing man was set to continue.