Dumfries Guid Nychburris day arrests show 50% rise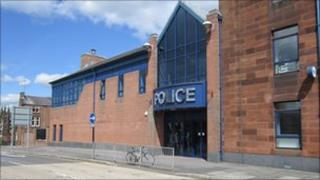 Five-year figures have shown a rise of about 50% in arrests during a summer festival in Dumfries compared with the weeks before and after the event.
The statistics on the Guid Nychburris celebrations were obtained via a BBC Freedom of Information request.
Ch Insp Alan Glendinning said the increase was not surprising, given the number of people coming to the town.
However, he said the level of anti-social offences "fuelled by alcohol" was of concern to police.
The Guid Nychburris event traditionally takes place in Dumfries on the third Saturday in June.
It starts early in the day with riders on horseback visiting the town boundaries before a fancy dress parade in the early evening.
Figures for the last five years show a total of 66 arrests at the Loreburn Street station in the town.
It compares with 45 on the Saturdays before the festival and 42 the week after.
Police have pointed out that the statistics only represent a "snapshot" between 07:00 on the Saturday through to 07:00 on Sunday.
The number of arrests is not solely related to Dumfries as custodies from other stations are taken to the town.
Mr Glendinning said the rise in incidents was not unexpected.
"There are a lot more people in the town for Guid Nychburris - traditionally there are crowds across the town," he said.
"We would probably expect, given additional numbers, that we may experience some more disorderly conduct.
"I should stress that it is not at the serious end of the scale."
This year's celebration saw the highest number of arrests in the figures provided by the police.
Nearly half of them were for breach of the peace with others including assault, reckless conduct and drugs supply.
Mr Glendinning said there was one particular area of concern.
"A lot of the disorder that we get in the town is fuelled by alcohol and irresponsible use of alcohol by individuals," he said.
"It is about looking realistically at what the event is about and starting to pose the question - do we need to have alcohol on sale from 07:00 to 03:00 the following morning?"
He added that the level of arrests this year was not of concern.
"There is no clear indication that this year is particularly worse than any previous year," he said.
"We are talking about relatively minor offences in overall terms.
"I think the issue is about trying to curb the excess use of alcohol and that is the major concern for us."