Peebles marine's grave mementoes returned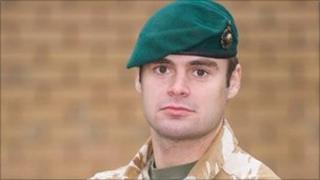 Mementoes taken from the grave of a marine killed in Afghanistan have been returned to a Borders cemetery.
The small glass hearts left at the burial place of Alec Lucas in Peebles by his daughter were put back shortly after the theft was highlighted.
His father, Adrian, said he was "very glad" that the items had been returned to their rightful place.
Marine Lucas died in November 2008 following an explosion while on patrol in Helmand province in Afghanistan.
His father said: "I hope it was just kids who did not realise what they had done but it restores your faith in humanity that they were put back."
As well as the items left by his daughter, a marine medal had also been taken from the grave.
They have now all been put back.
Marine Lucas is remembered in Peebles every year with a football tournament in his honour as he was a keen player.
A trust set up in his memory has already raised more than £50,000 for local football causes and a charity for the Royal Marines.