Luce Bay scallop bed consultation begins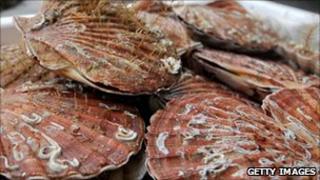 Tighter controls could be imposed on commercial shellfishing in a protected part of the Solway Firth.
The Scottish government has launched a consultation paper on the future of scallop dredging in Luce Bay.
The fishery at the centre of the consultation is in an area with special conservation status.
That designation is aimed at giving protection to the unique reefs, mudflats, sandbanks and marine life which populate Luce Bay.
The site's scallop beds are already closed to fishing from March until October each year, but the Scottish government is now considering introducing additional controls.
The move follows advice from Scottish Natural Heritage who have been studying the impact of scallop dredging on the seabed.
A five-week consultation has been launched and a series of meetings will be held for people with a stake in the fishery.
Environment Minister Stewart Stevenson has urged local fishermen to take part.
He said their input would play an important role in helping to ensure that any new measures to protect Luce Bay could be put in place without undermining a viable fishing industry.