Rhino beetle discovery prompts 'safari on the Solway'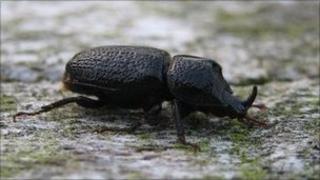 A rare rhinoceros beetle has been discovered at a nature reserve on the Solway coast.
The insect was spotted at the RSBP's Mersehead reserve between Dalbeattie and New Abbey.
Staff there are hoping the discovery will encourage more visitors to come along and experience a mini-beast safari.
Other "big game" to be found on the reserve include garden tiger moths, leopard slugs, and elephant hawk moths.
Rhinoceros beetles, which are related to stag beetles, have a pronounced rhino-like horn that the males use to protect tunnels containing their young.
They live in rotting wood and mostly come out at night. They are harmless to humans.
Craig Macadam, from Buglife, was the one to first spot the beetles during a trip to the reserve.
He said: "I was really surprised to find a rhinoceros beetle on the Solway, as there are only a handful of scattered Scottish records, all in the Highlands and Aberdeenshire.
"Now that we know it is at Mersehead we can work with the RSPB to provide the ideal conditions for it to prosper."
Ben Mitchell, RSPB Scotland assistant warden at Mersehead, said: "When I moved to Mersehead, I knew it was a big reserve, but I didn't realise it was a big game reserve! Being a warden here certainly gets more interesting every day.
"We've been doing a lot of work on the reserve to encourage invertebrates, and I think the range of insects we now know to be living at Mersehead is a good sign of how effective that work can be."