Keith Brown opens Galashiels housing project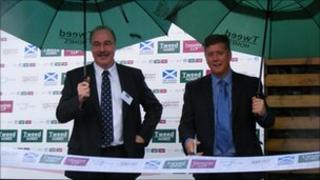 Scottish Housing Minister Keith Brown has visited the Borders to open a site being developed under a new method of funding affordable homes.
Tweed Homes will build 26 houses in Galashiels and 25 in Innerleithen.
Scottish Borders Council is one of seven authorities which has joined the National Housing Trust scheme.
The homes will be let on short assured tenancies for below-market rent then sold in five to 10 years with tenants offered the first opportunity to buy.
The proceeds of the sales will repay the funds used to build the houses.
Mr Brown said: "I am delighted that our creative, innovative NHT funding model, the first of its kind in the UK, has borne fruit.
"It will help address the demand for much needed affordable housing across the country.
Development boost
"NHT will deliver dozens of new homes in the Borders, which will be made available for rent at below market rates.
"Importantly, they have been secured for very little taxpayers' money as well as supporting jobs and stimulating the local construction sector."
Scottish Borders councillor Ron Smith said it was a development boost for the area.
"This agreement is an important one which will make a huge contribution to the many families who are looking for affordable homes in the Borders," he said.
"I have no doubt this scheme will be a huge success and will prove a blueprint that other authorities in Scotland will want to follow."
Tweed Homes managing director Andy Pearson said the initiative was a massive boost for all concerned, with much-needed housing for rent being built and 200 jobs in the construction industry created or safeguarded.
The first 12 homes on the Galashiels site should be ready in February, with a further 14 scheduled for completion by June next year.
Work on 25 homes in Innerleithen is likely to begin in the spring.