Dumfries hospital death defects highlighted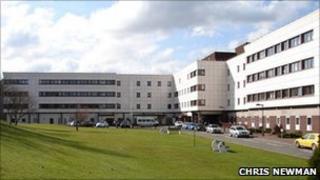 A fatal accident inquiry has found a number of defects in patient transfer procedure following the death of a man in Dumfries Infirmary in April 2009.
John Aitken, 56, died of a cardiac arrest after a bid to move him to the hospital's intensive care unit.
A sheriff found the lack of "properly publicised" care procedures for patient transfer contributed to his death.
However, he said Mr Aitken had been "very ill" and none of the precautions suggested "guaranteed survival".
Mr Aitken was admitted to Dumfries Infirmary in July 2008 and diagnosed with a tumour.
He was later transferred to Edinburgh Royal Infirmary due to complications but returned to the Dumfries hospital in September that year.
He was placed in ward 14, designed to put patients in the "best position to return home", but remained there until his death.
It was in March 2009 that his condition deteriorated and the decision was taken to transfer him to the intensive care unit on 1 April.
Sheriff Kenneth Ross said a number of "reasonable precautions" might have avoided his death following the attempt to move him.
Care procedures
They included switching on a portable oxygen supply after he had been disconnected from a wall-mounted system and using a portable machine to monitor his blood oxygen saturation levels during transfer.
The sheriff also highlighted a range of "defects in the system of working".
He cited the lack of formal care procedures during transfers, the failure to monitor blood oxygen levels and the absence of adequate staff training for moving patients as areas of concern.
"Mr Aitken was deprived of oxygen during the transfer," he said.
"A supply of oxygen might have avoided the cardiac arrest which led to his death.
"It follows that switching on the supply was a reasonable precaution which might have avoided the death."
The sheriff said there were a number of areas where action might have been taken.
"I would stress, however, that to have done any of these things would not have guaranteed Mr Aitken's survival," he added.
"Nor would that survival have been a probability.
"The evidence does not support either such conclusion... Mr Aitken was very ill before the transfer commenced."
No formal recommendations were made as a result of the inquiry as the sheriff found the health board had taken steps to address the issues raised following Mr Aitken's death.
A spokesman for NHS Dumfries and Galloway said the board wished to express its "sincere condolences" to Mr Aitken's family.
He said it fully accepted the sheriff's findings and had carried out a detailed review which had resulted in "a range of measures put in place to improve systems".
"The board will continue to monitor the systems in place to ensure that the systems introduced are effective and reliable," he added.