Dumfries and Galloway home cannabis factory rise alert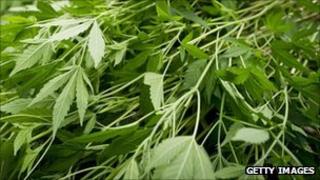 Police have said increasing numbers of "do-it-yourself" home cannabis factories are being uncovered in south west Scotland.
In the past 12 months a total of 19 so-called "cupboard gardens" have been discovered in houses, lofts and outhouses across Dumfries and Galloway.
It has resulted in the seizure of 373 cannabis plants with a potential street value of more than £200,000.
Police have asked the public to be aware of tell-tale signs of such sites.
Det Sgt Dean Little, from Dumfries and Galloway Constabulary's drugs unit, said one of the factors behind the situation was the easy access to information on growing the plants.
"We have certainly experienced an increased uptake in it over the last 12 to 24 months, it has become more commonplace," he said.
"A lot of it has to do with the accessibility of the internet, they have information readily available that they can access on there.
"In my opinion that is a very big factor in why it is becoming more prominent."
He added that while some of the cultivations were for personal use, many would end up in the drugs supply chain across the region.
Police have asked the public to look out for any signs of DIY cannabis factories operating in their area.
They said neighbours should be aware of a pungent smell coming from a property, vents protruding through the roof or a rear window, fluctuations in power supplies and windows permanently covered from the inside.