Move to check on Lockerbie bomber's condition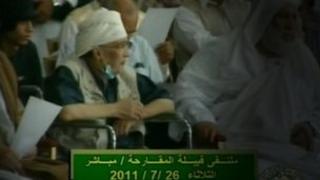 Scottish officials will try to contact Lockerbie bomber Abdelbaset al-Megrahi to establish his condition after rebels entered the Libyan capital Tripoli.
He was freed from prison in Greenock on compassionate grounds two years ago.
One of the conditions of his release was that he stay in touch with criminal justice social workers from East Renfrewshire Council.
Meanwhile, Scottish prosecutors said they were ready to act if any new leads on the bombing emerged from Libya.
Rebel forces swept into Tripoli following an uprising in the capital at the weekend, but met strong resistance from pro-Gaddafi forces as they continued their push on Monday.
Fighting in Tripoli was continuing on Tuesday, with both sides saying that they controlled most of the capital.
Megrahi, who had been diagnosed with terminal prostate cancer, was freed from Greenock Prison on 20 August 2009.
He had been jailed in 2001 for the bombing of the US airliner, with the loss of 270 lives.
Megrahi has maintained regular contact with social work officials at the council since he was freed after being diagnosed with terminal cancer.
He normally speaks to members of the criminal justice department by telephone or video link and the last contact is believed to have been within the past fortnight.
However, the rebel advance into Tripoli means officials are keen to speak to him again soon.
They will try to get in touch with him over the next couple of days.
Megrahi was last seen in public at a pro-Gaddafi rally last month.
Foreign Secretary William Hague said he and the prime minister had "always thought [Megrahi's release] was the wrong thing to do".
"It was, of course a matter for the Scottish Executive, not for the United Kingdom government, so it's not a matter I can control now," he said.
"But if I was a Scottish minister rather than a UK government minister I would be looking urgently to review this situation and to see what I could do about it."
Meanwhile, the investigation is continuing into who else may have caused the Lockerbie bombing.
The Crown Office said it was ready to follow any new lines of inquiry that came from the collapse of Gaddafi's regime.