Dumfries Mulligans Bar fire starter made payment claim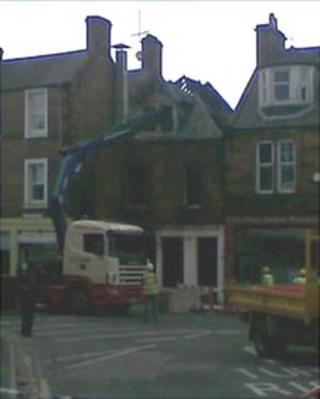 A man serving a 13-month jail term for starting a fire that burned down a Dumfries pub claimed he did it because he had been told he would be paid £500.
James McClone's prison sentence was imposed in May, but the details have only just been revealed due to reporting restrictions.
Mulligans Bar in Nith Place was destroyed by fire a year ago and has since been demolished.
McClone, 41, admitted setting fire to the pub resulting in danger to others.
Depute fiscal Pamela Rhodes told Dumfries Sheriff Court that when interviewed McClone claimed he had been offered £500.
He had said he did not want to start the fire but felt obliged to because of what the person who made the offer had done for him.
McClone also said he was told petrol would be available for him to use and that it should happen on a Friday night.
The property had previously been broken into by youths and McClone claimed he was told they would be blamed.
A taxi driver saw McClone standing near the blazing pub and then saw him a short time later in Galloway Street with burns to his arms and face.
Agents for McClone, who had been living in Dumfries but gave a Birkenhead address, said it appeared that he had been put up to this "folly".
The court was told he was thoroughly ashamed of himself and fully appreciated that he should never have carried out his actions.
Sheriff Jamieson told McClone that it had been done for monetary gain and the only sentence possible was a custodial one.