Dumfries road works move to improve school run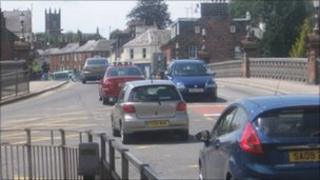 Road works across Dumfries are being moved or finished in a bid to reduce their impact on traffic flow as schools return from the summer holidays.
Motorists have faced delays in getting across the town since the repairs started more than two months ago.
Some are scheduled to run for several weeks more but their location is being shifted as schools go back on Thursday.
The council has said that while every effort is being made to limit disruption some delays are inevitable.
The programme of works has been focused on the town's Buccleuch Street Bridge.
Resurfacing there is scheduled to be complete and the bridge open to traffic by Thursday with new traffic lights also up and running.
Bridge parapet painting remains to be done which will see one footpath at a time closed to pedestrians.
Elsewhere, water mains work being carried out near Laurieknowe Primary and Dumfries Academy will be moved further away from the schools.
A gas network upgrade has also been shifted on Craigs Road - away from entrances to St Andrew's RC Primary and St Joseph's College.