Dumfries and Galloway Ladbrokes punter lands £1m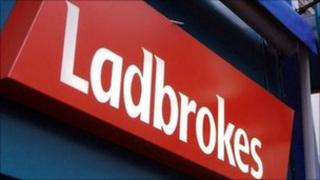 A Dumfries and Galloway man has become Scotland's first betting shop millionaire with a £1 bet.
The punter scooped his prize playing the Lunchtime 49s - a lottery style draw - at his local Ladbrokes.
All six of his numbers came up but it took him more than 24 hours to realise how much he had won.
He left the betting shop thinking he had won £100,000 and only realised the scale of his success when he returned the following day.
A celebratory screen in the shop informed him of his £1m windfall.
The amount breaks the existing record for a betting shop win in Scotland.
Alex Donohue of Ladbrokes said: "He's lived the dream of every small-stakes punter in the land.
"It's one of the most incredible episodes we've ever known.
"We're thrilled to bits for him and hope he enjoys his massive jackpot."
The lucky numbers in full were 3, 13, 23, 33, 43 and 44.