Lockerbie bomber Megrahi contact attempts continue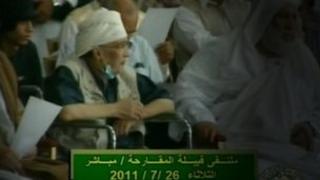 Scottish officials are still trying to contact the Lockerbie bomber Abdelbaset al-Megrahi after the rebel advance into the Libyan capital Tripoli.
A condition of his early release from jail was that he kept contact with East Renfrewshire Council.
Deputy Prime Minister Nick Clegg has said he would personally like to see Megrahi back behind bars.
He stressed it was a personal opinion and any recall would be a matter for the Scottish government.
Megrahi was freed on licence two years ago - but that was dependent on him agreeing to maintain regular contact.
The Scottish government said that had happened but officials were now keen to hear from him soon.
They want to check on his condition after the fighting in Tripoli.
If they fail to make contact, Megrahi could technically be recalled to prison in Scotland.
That is something the deputy prime minister has suggested he would like to see.
Mr Clegg used a visit to West Lothian to give his view but stressed it was his personal opinion.
'Great risk'
Jim Swire, who lost his daughter in the Lockerbie bombing, said he feared for Megrahi's fate.
"Megrahi at the moment, when we last spoke to him, is with his family in Tripoli," he said.
"I think he is at great risk of being assassinated, either by the incoming rebels or perhaps being snatched by an American special forces team - I can't know which is the most likely.
"But if he escapes that the question will be how will the rebels - when they are victorious - deal with him?"
Megrahi, who had been diagnosed with terminal prostate cancer, was freed from Greenock Prison on 20 August 2009.
He had been jailed in 2001 for the bombing of a US plane over Lockerbie, with the loss of 270 lives.