Illegal immigration fears at Stranraer and Cairnryan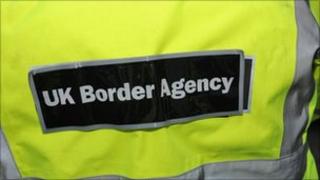 South of Scotland politicians have voiced serious concerns about a rise in illegal immigration through the ports of Stranraer and Cairnryan.
The figures from the UK Border Agency (UKBA) also showed that local police were spending more time dealing with immigration offences.
The UKBA cut funding support for policing at the sites last year.
Dumfries and Galloway Labour MP Russell Brown said it should be a "wake-up call" for the government.
The UKBA's secondment of three officers from Dumfries and Galloway Constabulary at the ports unit was halted at the end of November last year.
At the same time, responsibility for identifying illegal immigrants was transferred to a specialist team in Northern Ireland.
An assessment report into the move showed that 102 offenders were detected at Scottish and Northern Irish sea ports in the first four months of this year - a rise of 65% compared with the same period in 2010.
The study says that suggests the new arrangements have "strengthened defences".
However, Mr Brown said he was unhappy with the situation.
"This deeply concerning report must be a wake-up call for the government," he said.
"It blows out of the water any claim that the situation is being dealt with properly in Northern Ireland because the time being spent by Dumfries and Galloway police dealing with immigration cases has soared by almost a quarter.
"It is clear that there were no proper plans in place to deal with the consequences of withdrawing the seconded officers from the port," he added.
Those concerns were shared by Galloway and West Dumfries Tory MSP Alex Fergusson.
He said the findings reflected what many feared would happen when the secondment ended.
'Largely positive'
"Illegal immigrants and their money-making sponsors are not stupid," he warned.
"They know where the easy points of entry are, and the decision by the UKBA to reduce its commitment to the ports unit has simply highlighted one of those easy points of entry.
"UKBA should have a rethink on this policy - and quickly."
The UKBA has concluded that the impact of new arrangements has been "largely positive".
However, it said they would continue to be monitored and that efforts to improve its partnership with Dumfries and Galloway Constabulary would go on.
A further report on the changes will be issued at the end of their first full calendar year in operation.