Dumfries and Galloway customs op seizes 1.5m cigarettes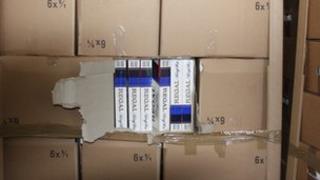 Police and customs officers have seized more than 1.5 million counterfeit and smuggled cigarettes in an operation on the A75 in Dumfries and Galloway.
They were discovered on Wednesday hidden in the back of a 40-foot refrigerated unit.
It has been estimated the haul would have evaded duty of about £375,000.
The driver of the vehicle has been interviewed by HM Revenue and Customs officers and investigations are ongoing.
The truck also contained a "substantial quantity" of counterfeit rolling tobacco.
HMRC's assistant director for criminal investigation John Fitzcharles said: "Criminals who smuggle and sell illicit tobacco products are stealing around £2bn from the UK Exchequer each year.
"This illegal activity has a devastating impact on honest retailers forced to compete with illegal unregulated sales.
"HMRC continues to work with the police and other law enforcement agencies to protect the public from the significant and damaging effect smuggled and counterfeit tobacco products have on our communities."