New Scottish mountain rescue fleet funded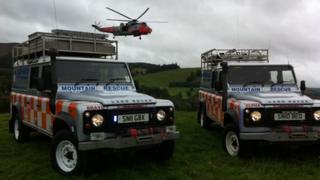 St John Scotland has announced plans to buy a £500,000 new fleet of mountain rescue vehicles.
They will replace the 25 they have bought for Scottish Mountain Rescue since 1998.
The first of the new fleet has been presented to the Tweed Valley Mountain Rescue Team near Peebles.
Sir Malcolm Ross, who chairs St John Scotland, said it was "absolutely delighted" to provide support to the search and rescue service.
The plans have been welcomed by Jonathan Hart, who chairs the Mountain Rescue Committee of Scotland.
"This continued significant financial assistance from St John Scotland to buy a fleet of 25 new emergency vehicles will provide a huge boost to mountain rescue teams in Scotland," he said.
"We are deeply grateful to St John Scotland for their outstanding support over many years.
"Scottish Mountain Rescue represents the best traditions of community service and continues to deliver a world class, front-line, voluntary search and rescue service, free at the point of delivery, in the face of increasing demand."