Kittens found dumped in bin bag in Hawick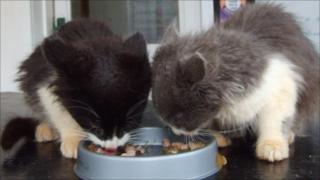 The Scottish SPCA is hunting the "callous person" who dumped two eight-week-old kittens in a bin bag in Hawick and left them to die.
They were found by a member of the public at 07:00 on Friday on an old railway path in the Borders town.
The animal welfare charity said the kittens - named Midnight and Shadow - appeared to be making a full recovery.
It has appealed to the public to help them trace whoever was responsible for the "extremely cruel act".
The kittens were found on a path between Melgund Place and Linden Crescent.
They were first taken to a local vet and are now being cared for at the Scottish SPCA's Scottish Borders Animal Rescue and Rehoming Centre at Mellerstain.
Senior Inspector Jenny Scott said: "The lady found the kittens when her dog was drawn towards a garden refuse sack that had been dumped in undergrowth.
"When she opened it she found a plastic bag with the two kittens tied inside.
"If they hadn't been found, the poor things would have starved or suffocated to death."
'Very hungry'
She said they were very hungry but appeared to be otherwise unharmed.
"Both kittens' white fur is stained yellow so they've obviously come from a very dirty environment," she added.
"We think it's likely they've been in someone's house as they appear to be litter trained already.
"This was an extremely cruel act and we're keen to identify whoever was responsible."
Anyone who recognises the kittens and knows who owned them has been asked to contact the Scottish SPCA.