Bolton rocket team 'confident' of Galloway record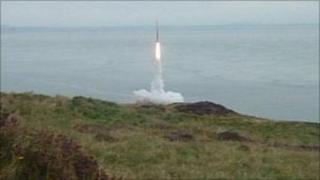 A group of students from Bolton says it is "confident" its rocket has broken the UK amateur height record on the Mull of Galloway.
The Black Streak was successfully launched on Thursday morning but the search is ongoing for all its parts.
Until the payload is discovered, the team is unable to verify the height the rocket reached.
However, project leader Torben Steeg said all indications were that it would have beaten the record of 10.5km.
The rocket, designed by sixth form students at Canon Slade School and Turton High School who worked with the Bolton Science and Technology Centre, was launched on Thursday morning a little after 10:00.
Some parts of it were recovered by a local fisherman but the component needed to check the height reached remains unfound.
It is hoped the rest of the rocket will be discovered at sea or possibly wash to shore.
Mr Steeg said he believed it would ultimately be confirmed that a record had been set.
"We are confident because the rocket launch went so well," he said.
"There is no reason why it should not have easily broken the record."