Tour of Britain Peebles to Dumfries stage tested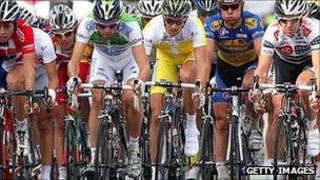 Charity cyclists are taking on the route of the first stage of the Tour of Britain in the Scottish Borders and Dumfries and Galloway.
The Prostate Cancer Charity Tour Ride comes exactly a week before the professionals tackle the same roads.
Participants had the choice of trying the full ride starting in Peebles or a shorter loop around Dumfries.
The Tour of Britain begins on 11 September in southern Scotland and finishes in London a week later.
The stage one route the amateur cyclists are taking begins in the centre of Peebles before heading along the Tweed Valley to Innerleithen.
From there it begins to head uphill, taking the race over a series of climbs to Tweedsmuir and then on to Moffat.
After reaching Dumfries for the first time, it takes in a loop of the Dumfries and Galloway countryside, before turning for home and the finish in Dumfries.